Tuesday, May 5 – Lockdown in Kampala
By David Martin Aliker KAMPALA, UGANDA
Next week, if you pull out 20,000/-UGX shillings (about $4) to pay for anything from your pocket, no one will give you balance.
These were honest words from a trader in a lockup shop during Lockdown in Kampala, Uganda. I had pulled out 20,000 Uganda Shillings to buy bottled water at 1000/-UGX shillings.
I walked for two hours from Manyangua to Gayaza trading center like a foot soldier with his luggage on his back to meet the only prospects of traveling to Gulu by a friend, Odong, using private means of transport.
The government had instructed parents to pick up their children from school, which, in the subsequent week, was locked down.
It was as if there was a coup in town and a successful change of government.
A lockdown meant that no public means of transport were allowed in the country except for cargo lorries and private cars with stickers permitting their movement. Private vehicles then permitted only three travelers. Previously, I had tried reaching out to newspaper distributing agents around the country to give me a lift and travel in their night shifts and was unsuccessful. I also reached out to my high profile contacts to help arrange trips for me back to Gulu, where I am based.
My school had closed without me because I prioritized picking my children from school and permitted the headteacher to close the school.
I also had pending writing contracts that had to be completed.
The lockdown meant a crushing economy with no work. Therefore, these monies could give me an edge for the difficult times ahead.
Here, I was locked up in the lockdown in front of a lockup shop.
Like the trader, we were all trapped in the lockdown in Kampala, struggling to find a way out.
"Why do you think, next week, if one pulled out 20,000/- he would not get it back?" I asked.
"We are so many trapped in the lockdown with our families in Kampala. We want to get out of Kampala, but there is no public transport", he said.
"I am traveling to Gulu now with a friend," I responded.
"You are lucky, someone can give you a lift. I want to travel to the Mbale District in the East with my family, but I have no money, yet soon we will not have food. This coronavirus will make us all thieves." he replied.
"What are you going to do?" I inquired.
"I don't know," he responded.
I recognized millions were trapped with the abrupt lockdown in Kampala and want to travel to their villages but have no means.
Soon, with redundancy and scarcity of money, especially the majority in the informal sector, will turn to crime. As they say, "necessity is the mother of innovation but also the father of crime."
As I contemplated our trapped dilemma, I received a call. It was from Odong who promised me a lift to Gulu. He had parked at the Gayaza roundabout that heads to Kabanyoro in the north and Manyangua to the East.
The road had minimal traffic, and so it was easy to identify him.
If it were not for the lockdown, it would be impossible to park near the roundabout. It was always a high traffic jam up.
It was 2:00 pm. Our journey was scheduled for 10:00 am. Odong had been struggling to get clearance from his boss.
His job was designated "essential" during the lockdown, and these workers were permitted to travel freely. The country could not do without their services during the lockdown.
Soon after the courtesies, I turned to look at the trader who kept staring at us. He waved at us like a child missing the mother who would be traveling on a long journey, never to be seen anytime soon.
"How do you know that man?" Odong asked as he drove towards Kampala.
"I don't know him. I just bought water from him. He told me, next week, no one will give me balance of 20,000/- UGX in Kampala because everyone is broke." I explained.
"So sad, he must be trapped in Kampala. So many people are trapped in the city with no work and no money yet with families," he explained.
"That is what he told me. He wants to travel with his family to Mbale, but he has no money, and there are no public means of transport," I responded.
"Which route are we using? You have passed the way." I asked.
"We have to pick up a young man in Natete and get him to Gulu. He is a student and also in the 'Corona Trap.' His parents could not pick him from school in time, so he is trapped with difficult relatives and desperate to find his way to Gulu," he responded.
At 3:00 pm, we were in Natete by the side of an empty street that previously had a permanent traffic jam.
By the roadside, were redundant unemployed youths who had lost their jobs to the lockdown. They were keeping social distance among each other and quarantined to their neighborhood. They were busy chatting about recent events of the lockdown and coronavirus.
Zed, the young man we were waiting for arrived and found us by the petrol station he had mentioned as our meeting point.
His face lit upon seeing us. His gestures reflected a relived young man excited to go back home.
He held a small Adidas sports bag with his belongings.
His bag was black and red in color. He walked with the energy of a young athletic sportsman.
By 4:00 pm, we were setting off out of Kampala, entertained by one conversation after another, we discussed our challenges getting trapped in Kampala.
Zed, shared stories about his life trapped in a relative's home and how they complained of lack of food. He believed in the next week, they would have no more food. The family had rationed food twice as small as the normal food ration for the family.
I wondered how my mum was faring as she had our siblings and had not anticipated the lockdown. Could she also be downsizing on food rations with my siblings? I wondered.
As we traveled in the dark, we listened to our local folklore music on a thumb piano. The artist, Mzee Watmon, in his lyrics laments about the days of the war at home in Acholi land when people were displaced in camps.
"This Coronavirus pandemic is like a war," Odong lamented as he dodged a pothole.
"It may displace us again in camps," I responded.
"I felt like I was already displaced in a camp at my relative's home," Zed replied.
After traveling for three hours, the car strained, giving out an increased acceleration sound, but the car barely accelerated its movement.
Sweat started pouring down the driver's face. He looked tensed and concerned.
"What is happening? "I asked
"I don't know, but I think there is a mechanical problem in the gearbox." He replied
The driver soon branched off to an isolated Total Petrol Station around Kafu.
While petrol stations were designated "essential services" and permitted to work normally, there was also a presidential directive on curfews by 7:00 pm, and Motorbikes were not allowed on the road after 5:00 pm.
This meant that all mechanics and petrol station staff had retreated home to their quarantine.
We found only a security guard at the petrol station.
The guard suggested that a mechanic be called in from home. He arrived almost after an hour. He checked the car and worked on it. This took another hour or more as he figured out the problem and repaired our vehicle. After resuming our journey for 10 kilometers, our vehicle broke down again. It could move but at less than 60kms per hour.
It was dark, and we were all scared. Since then, no car had followed us, but we kept meeting lorries carrying goods to Kampala. We desired to keep on the journey until it could not move anymore.
We arrived in Gulu around midnight, and there was no sense of life in town. The obvious loud discotheques were all closed.
The busy prostitutes that always walked the streets at the entrance of metropolitan Gulu had been quarantined to live in their homes and out of business.
I felt like a beer, but there were no prospects of any open bar. The streets were abandoned for soldiers and police officers upholding the curfew.
It had drizzled, and the weather was cold.
Some guards took shelter in front of closed shops and petrol stations.
The once lively nightlife of Gulu was a shadow of itself. Dark, cold, and lifeless.
Indeed, coronavirus had killed business in a small economy, it had killed the happy nightlife of the people. The hot night spots had been perfectly buried in coronavirus graves.
The life, businesses, and people were all trapped in a cage with no solution at hand, except to stay home, if they had to stay safe.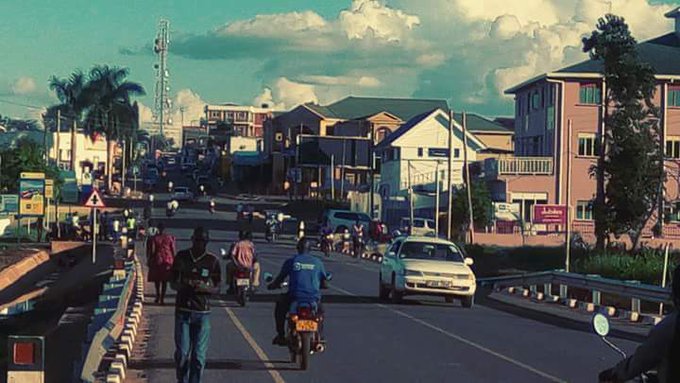 While this was sad for a place we call home, at least we were back home safe and happy to end our time trapped in the city.
East or West, home is best.
David Martin Aliker is a blogger based in Gulu, Uganda, and author of the book: My Mayor. The Political Story of a Poor Elite and Rich Illiterate. (Ocitti P'Igunye Kumgem) Email: mdaliker@gmail.com